Jam Cruise
January 7-12, 2020
MSC Divina
Miami, Florida • Ocean Cay, Bahamas • Costa Maya, Mexico
Lineup
The Claypool Lennon Delirium + Les Claypool's Bastard Jazz • Moe.
Galactic • Karl Denson's Tiny Universe • Lettuce • Lotus
Pigeons Playing Ping Pong • Turkuaz • Original Garage A Trois • Dumpstaphunk
Tank and the Bangas • Keller Williams' Grateful Grass + Solo Set • Electron
Ghost Light • Mihali • The Soul Rebels • Cory Wong • Samantha Fish
Circles Around The Sun • Robert Walter's 20th Congress (Ft. George Porter Jr.)
Too Many Zooz • Grateful Shred • Chali 2na & Cut Chemist • Ghost-Note
Cris Jacobs Band • Kitchen Dwellers • Spaga • Joe Hertler & The Rainbow Seekers
Marcus King Super Jam • DJ Brownie • Maddy O'Neal
Solo Artists:
Charlie Hunter • Ryan Montbleau • Lebo • Tom Hamilton • Steve Poltz
Holly Bowling • Cris Jacobs • Brock Butler
Special Guests:
Walter Wolfman Washington • George Porter Jr. • Karina Rykman
Casey Benjamin • Alfreda Gerald • Roosevelt Collier • Steve Kimock • Nicki Bluhm
Masters Camp At Sea:
Eric Krasno • Luther Dickinson • Nikki Glaspie • Garett Sayers • Ivan Neville • George Porter Jr.
Charlie Hunter • Robert Walter • Nigel Hall • Ashish "Hash" Vyas • Jeffrey "Congo" Franca • Steve Kimock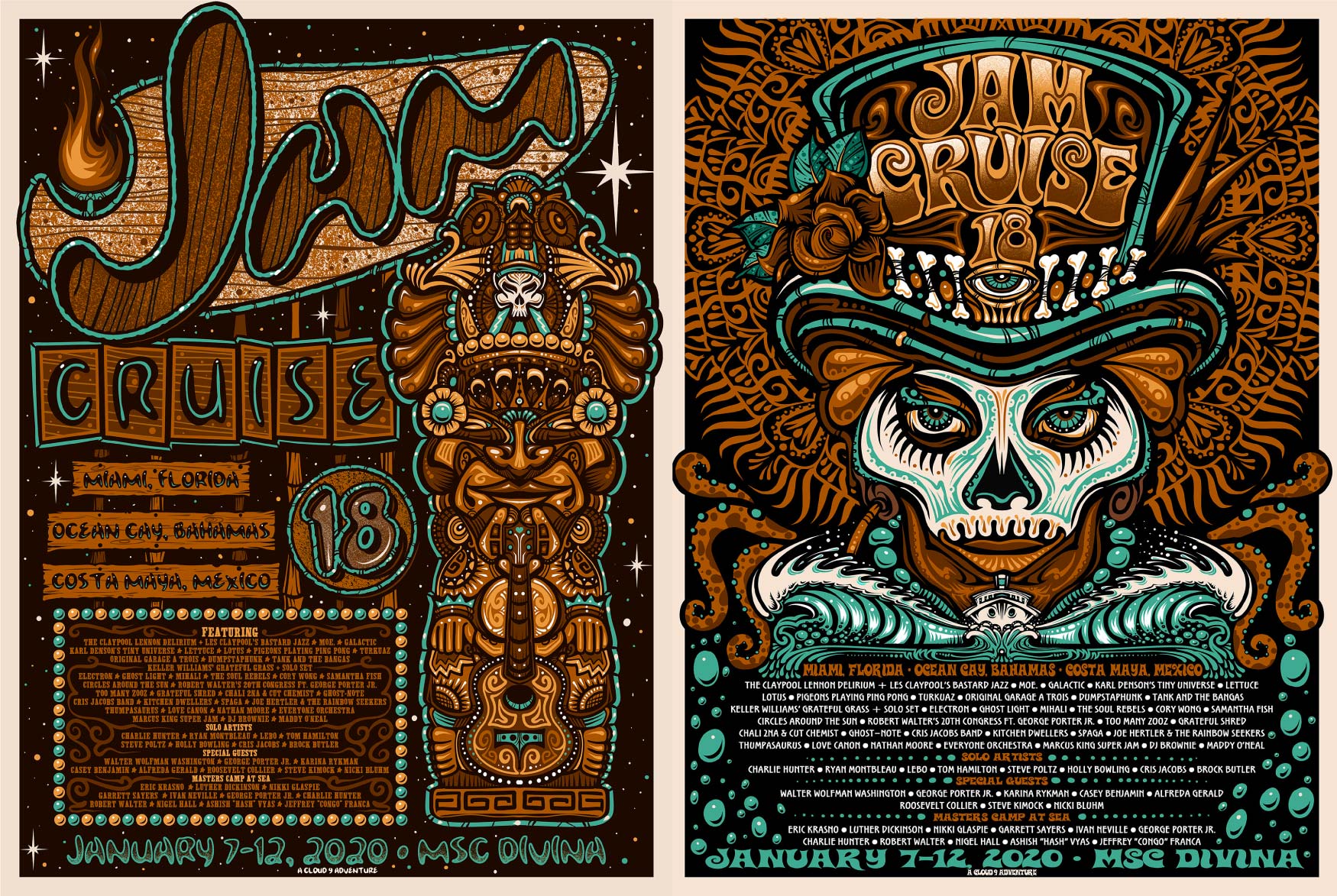 Testimonials
"There is nothing like Jam Cruise!! It leaves an Indescribable amazing feeling that you can't even relay to non cruisers. I wait all year long for this moment to see my jamily and make new life long friends. From the bottom of my heart, Thank you!!!!!"
"Jam Cruise is a place where we all let go. We have no worries. We laugh at the silly stuff, which is all around us. You see things and look over and catch the eye of another who saw it too and you instantly laugh together. The music we witness is mind blowing. So much talent is around us. There really is no other place like it. Thank you!"
"This was my first Jam Cruise and I can say that it was easily the best experience of my life. I have wanted to go on JC since the beginning, but life has gotten in the way previously. So I was happy to even be going on the boat. I knew it would be awesome, but it exceeded every expectation I had. The sheer amount of sit-ins and jams was amazing. Plus the fun events like Pingo and Wait Wait Don't Jam Me were so special, and something that I would never experience anywhere else. Such a fantastic experience all around. I am hooked. Already planning next year."
"Jam Cruise is always the best week of my life and I never want to miss it again! The music, the people, the fun and the overall experience can not be matched."
"I love how over the years, a lot of the musicians have become great friends on and off the boat. Feeling so grateful and blessed to have experienced all this since that first boat. Thank you Cloud 9 for always listening to us. Never would have thought I would be doing this for so many years! "